Unraveling the Dangerous Nexus of Drug Trafficking and Terrorism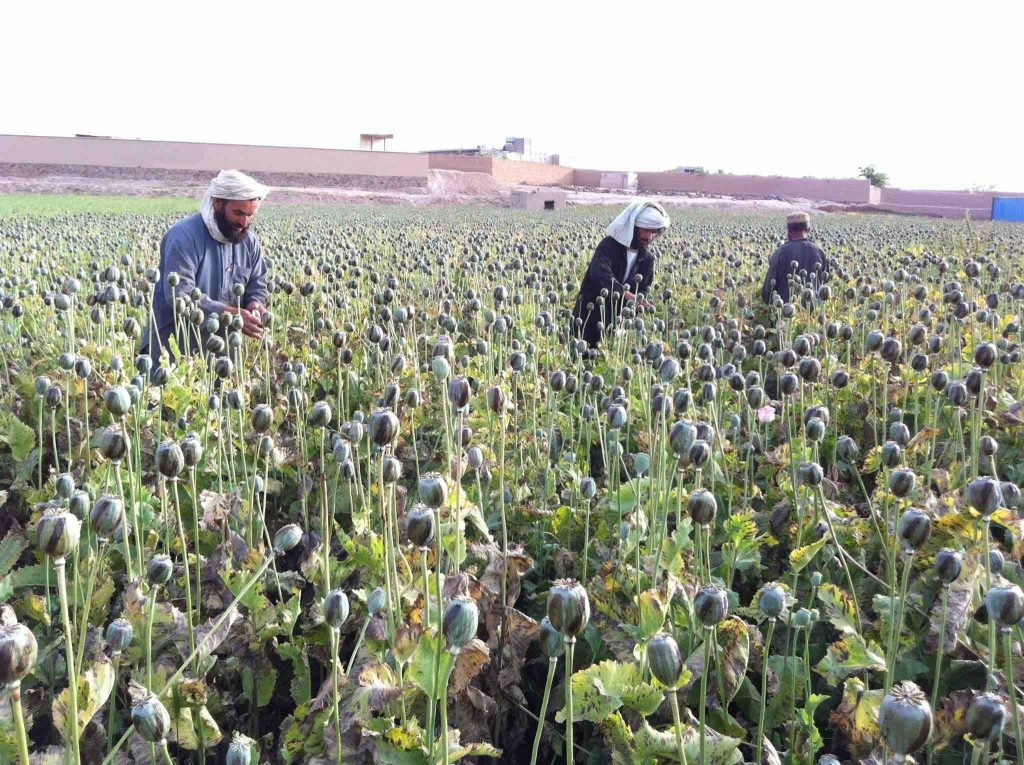 By SS Ahmad
It is well known that Pakistan is one of the prominent drug transit points along the Southern route of the Golden Crescent. While Afghanistan is the prime source of opium supply to the world drug markets, Pakistan is the transport hub with drug networks operating from the country using its drug routes to reach international markets. Significantly, forty per cent of Afghan drugs transit Pakistan before they reach the international markets. International narcotics agencies like the US Drug Enforcement Administration (DEA) have long been aware of the narcotics trade emanating from Pakistan and the threat that this poses to the world. There is also awareness of the tacit support of the Pakistani state and military to this drugs trade as it funds the terror and proxy wars, engaged in for several decades now. The scale and intensity of this security challenge has implications for regional and international security and is therefore worth drawing attention to.
The Southern route through Pakistan
There are three well-defined heroin trafficking routes that originate in the Golden Crescent region. The Balkan route operates through Iran and Turkey and traffics the bulk of Afghan heroin to Europe. The northern route supplies heroin to the Russian Federation and Central Asia. Due to increased law enforcement along these two routes, alternate routes have emerged, collectively called the southern route, which traffics heroin to Iran and Pakistan, and from these countries, via sea and air, to other parts of the world. Pakistan's is in the veritable front-row position in terms of drug trafficking. The deep state has left no stone unturned in exploiting this geographic location to its advantage. The money generated from the drug trade has been used to fund proxy terror groups. The role of narcotics in funding terror activities by Pakistan was revealed by Lashkar-e-Taiba (LeT) terrorist David Coleman Headley, one of the main accused in the 26/11 terror attack in Mumbai, India. During his interrogation in 2010, he revealed the role of Pakistan's Inter-Services Intelligence's (ISI) in linking drug lords and terrorists and facilitating the transportation of weapons, along with drugs, to India.
Poppy is still cultivated in large parts of southern provinces of Afghanistan like Kandahar and Helmand, where the Taliban has a strong control. Opium poppies and heroin are among the main sources of income for the Taliban, which controls 80 per cent of the drug production area. Pakistan acts as a facilitator by transporting these drugs to other countries. Drug consignments, in connivance with Pakistan's military, are smuggled through the Pakistan-Afghanistan border and from there, these consignments head to further destinations in China, South-East Asia, Africa, and Europe. The 2012 United Nations World Drug Report stated that, "Pakistan provides a vital transit route for smuggling of drugs worth US$ 30 billion from neighbouring Afghanistan."
Pakistan backed the return of Taliban in Afghanistan because it knew that all drug cartels could be resuscitated and, consequently, it would have more funds to sponsor proxy terror groups. Significantly, more than 45% of Afghanistan's illicit narcotics traffic is through Pakistan. This establishes Pakistan as the critical transit point for the Afghan opiates along the infamous 'southern route.' In recent times, networks operating between Pakistan and Europe have gained dominance, intensifying the drug crisis in countries like the United Kingdom, Belgium, and the Netherlands. Data shows that a staggering 84% of seizures involving 10 kg or more of heroin at the United Kingdom borders are trafficked from Pakistan. Countries traditionally served by the Balkan route, such as Spain and Italy, have also identified Pakistan as a significant source of opiates in transit from Afghanistan. The DCSA, Italy's national anti- service DCSA has identified a surge in the number of heroin seizures in Southern Europe linked to the 'southern route.' This network starts from Karachi, Pakistan, and reaches Western markets via the eastern part of the African continent. Heroin traffic through this route has been intercepted in East and Central Europe.
Drug lords in Pakistan supported by the military are engaged in a narco-terror enterprise that has truly a global reach. Political instability today has only prolonged the drug trafficking and Pakistan has become an outstanding example of how the drug economy thrives when there is a nexus between the drug lords, politicians, and the Army. Pakistani state authorities deliberately turn a blind eye towards this transborder illicit activity. Furthermore, it is widely known that militant organizations and criminal gangs like the Lyari gangs in Karachi are openly engaged in the heroin trade. Pakistan is also a major source, destination, and transit country for cannabis. Its consumption is widespread within the country, with Karachi believed to hold the second-highest rate of cannabis consumption worldwide. Pakistan's cannabis is often directed towards local markets in East Europe and the Middle East. Added to this narcotic catastrophe is the rising popularity of synthetic drugs among the younger generations in Pakistan.
Recent developments have shown a significant increase in the transit of methamphetamine, mainly along traditional heroin routes dominated by Pakistani drug trafficking syndicates. Tonnes of opiates and meth are trafficked from Afghanistan to the Torkham border crossing, Ghulam Khan in Khyber Pakhtunkhwa province, from where they are sent to Lahore and Faisalabad, and re-assembled into huge consignments. They are then transported to Karachi and Gwadar, and fishing vessels on the Makran coast are used for drugs transport to South Asian markets. Balochistan has also been an important drug transit route in Pakistan and around 60 alternative drug routes are working through Balochistan, with major areas being Chaman, Noshki, Chagaghi, Dalbandeen, Panjgor, Turbat, Gwadar and Jeewani.
In a testament to this troubling nexus of drugs and terror, former Prime Minister Nawaz Sharif alleged that he was approached by high-ranking military officials to authorize large-scale drug deals to fund covert military operations. Following the outbreak of the Afghan jihad in 1979, mujahideen groups were encouraged to finance their activities through heroin trafficking. Large landowners and drug cartels cooperated with the mujahideen to ensure the smooth transport of the opium crop to Karachi port.
Lawrence Lifschultz, in his report 'Pakistan: The Empire of Heroin,' wrote, 'By 1984, Pakistan was furnishing 70 per cent of the world supply of high-grade heroin.' This scenario remains largely unchanged, making Pakistan a significant threat to global security.
Role in global narcotics trafficking
Pakistan's role in international drug proliferation is validated by the arrests of its nationals in other countries on charges of drug trafficking. Shahbaz Khan, a Pakistani national, was the leader of a drug trafficking organization (the "DTO") based in Afghanistan and Pakistan, which produced and distributed massive quantities of narcotics around the world. He was arrested by Liberian authorities in December 2016 and later deported to the United States, where in 2019 he was sentenced to 15 years for conspiring and attempting to import heroin into the US.
In May 2017, officials for the UK's Border Force impounded a Pakistan International Airlines (PIA) flight from Islamabad at London's Heathrow airport. Later, the National Crime Agency said that a quantity of heroin had been found hidden in different panels of the plane. In March 2018, two members of the cabin crew of a PIA flight, traveling on an Islamabad-Paris flight (PK-749), were caught smuggling narcotics on board the flight.
Of late, the PIA has come under the scanner of Qatar authorities who have recently discovered narcotics smuggling modules by Pakistani nationals who arrive in Doha, taking advantage of the country's Visa on Arrival (VoA) facility. Qatari officials are said to have photographic and video evidence of arrested drug smugglers from Pakistan. If this is true, then Qatar could possibly suspend the VoA facility for Pakistani nationals. The issue of narcotics smuggling has the potential to derail Pakistan's bilateral relations and besmirch its international reputation.
Narco-terror in South Asia
Pakistan, having evolved into a narco-state, collaborates with terrorist and extremist groups to achieve its objectives, posing a significant threat to the security of the Middle East, Asia, and Europe. Pakistan's dangerous exploits do not stop at international trafficking; it also actively targets its immediate neighbour, India, specifically the northern state of Punjab. Over the years, Punjab has become a significant destination for drugs, mainly heroin, being trafficked from Pakistan. The Inter-Services Intelligence (ISI), Pakistan's premier intelligence agency, has played a central role in this narcotics supply chain, aiming to destabilize Indian youth and sow social discord. This strategy has far-reaching implications, given Punjab's proximity to Pakistan and its history of separatist movements.
Pakistan ISI's activities along the International Border with India in recent years make it abundantly clear that it continues to use narco-terror as a tool against India. The persistent use of drones or Unmanned Aerial Vehicles (UAVs) to insert narcotics (and weapons) into the Indian states of Punjab, Jammu and Kashmir, and Rajasthan, signal a renewed interest in narco-terrorist activities, something that had been successfully done in the 1990s. With advances in technology, Pakistan can wage war against India in another form. Due to India's proximity to Afghanistan and Pakistan, the narcotics that are produced in Afghanistan are smuggled into India via Pakistan. A majority of the Afghan narcotics transits by road reach Punjab in India. Statistics reveal that smugglers route only about five per cent of the finished narcotics products through the land route into India. Yet it offers them enormous profits as the product's price increases manifold once it crosses into Punjab, India. For example, the price of one kg of heroin is approximately US$ 6,000 in Pakistan, which increases to US$ 120,811 when sold in India. The commercial value of the consignment rises to as much as US$ 604,043, in cities like New Delhi or Mumbai. The methodology of trafficking has also evolved over time, adapting to border security measures. Recent reports of the ISI using drones for drug delivery across the border into India are significant. These unmanned aerial vehicles (UAVs) are typically launched from Pakistani territory during the night, exploiting the minimal visibility to drop drug consignments at pre-designated locations on the Indian side. The utilization of drone technology presents a unique challenge for Indian security forces as it avoids conventional border crossings and bypasses ground-based security infrastructure. 
The motive behind Pakistan's persistent attempts to infiltrate drugs into Punjab is twofold. Firstly, it provides a considerable source of income that helps fund terror activities, including support for separatist movements within India. Secondly, and more insidiously, the rampant drug abuse induced by this narcotics influx aims to destabilize Punjab's youth, crippling a substantial segment of India's future generation.
The money derived from drug smuggling serves Pakistan's larger agenda of sponsoring proxy terror groups. The intergovernmental Financial Action Task Force (FATF), whose last Plenary was held in June 2023, should be discussing Pakistan's role in funding terror organizations through drugs/narcotics smuggling. It is well known that Pakistan uses jihadi organizations to advance its security objectives through proxy conflicts. Pakistan's policy of waging war through terrorist groups is planned, coordinated, and conducted by the Pakistani Army, specifically the ISI who plays a vital role in running the State. Pakistan's narcotics smuggling, with the active involvement of the deep state, presents a clear and present danger to the region. While internally, Pakistan has become a haven for drug addicts, the spread of narcotics globally and its combination with terrorism makes it a heady cocktail. These facts need to be taken into account when planning ahead on how to tackle Pakistan as a narco-terrorist state.
* SS Ahmad is a freelance researcher and journalist based in Afghanistan. 
Note: The contents of the article are of sole responsibility of the author. Afghan Diaspora Network will not be responsible for any inaccurate or incorrect statement in the articles.