The Afghan Refugee Crisis in Pakistan: A Tale of Persecution and Precarious Futures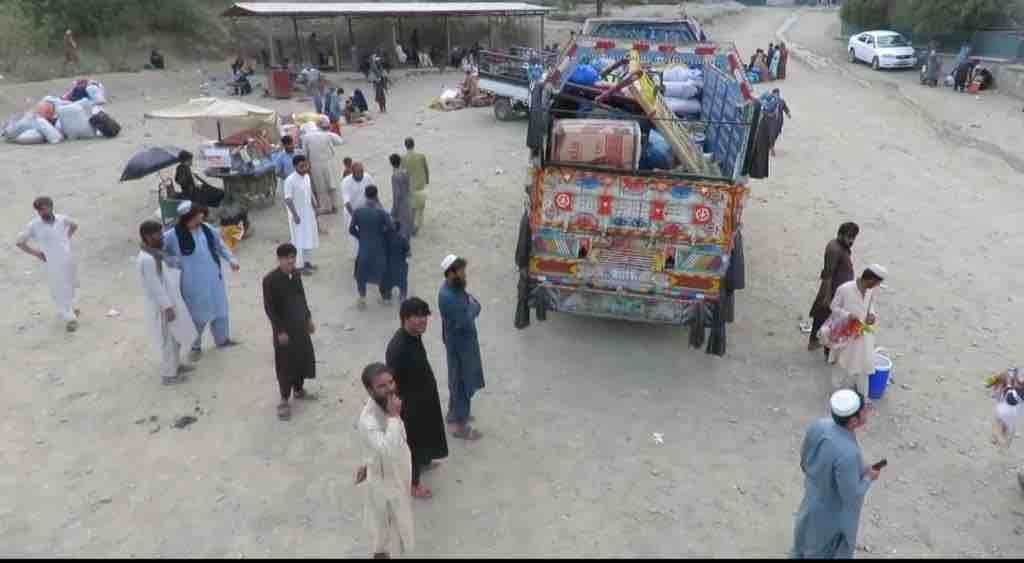 By Akhtar Nasiri
SYNOPSIS
The Afghan refugee crisis in Pakistan reveals a distressing narrative of vulnerable individuals grappling with a perilous existence. Pakistan's arbitrary and often harsh approach, characterized by warnings and looming deportations, has left these refugees in a state of perpetual uncertainty, despite Pakistan's historical role in the rise of the Afghan Taliban. While the international community expresses concern, it has yet to hold Pakistan fully accountable for its actions. Urgent international intervention is necessary to ensure that Pakistan upholds its international obligations and respects the rights and dignity of Afghan refugees. This situation underscores the urgent need for justice, compassion, and adherence to international norms in confronting Pakistan's role in exacerbating the suffering of those who have already endured so much.
Pakistan has been issuing warnings to Afghan refugees, who have sought shelter within its borders, in a capricious and overt manner, urging them to return to the war-ravaged and Taliban-controlled Afghanistan. These refugees, having fled their homeland to escape ceaseless violence, misery, and crime, now face the prospect of expulsion from Pakistan. The Pakistani military establishment's approach appears to be unflinching, often marked by a complex strategy that differentiates between 'Good Taliban' and 'Bad Taliban,' alongside relentless military operations in the Pashtun-dominated tribal regions along the Durand Line. It's worth noting that the elected Pakistani government was one of the first to extend congratulations to the Taliban upon their takeover of Kabul. The then-Prime Minister, Imran Khan, went so far as to describe it as 'breaking the chains of slavery.'[1] However, despite these overtures, terrorism continues to pose a persistent challenge. Frustrated by the inability to effectively combat terrorism, the Pakistani government has now turned its focus toward the vulnerable Afghan refugee population.
To justify its suppression Pakistan on October 26, gave a last warning to all immigrants in the country illegally, together with hundreds of thousands of Afghan nationals, to leave voluntarily before a November 1 deadline, the country's caretaker Interior Minister Sarfraz Bugti said. Bugti stated that Pakistan was determined to go ahead with a plan to remove all undocumented immigrants after the assigned date. Pakistan supposedly took the decision after Afghan nationals were found to be involved in crimes, smuggling and attacks against the government and the military, including 14 out of 24 suicide bombings this year. "All the illegal immigrants have been identified. The state has a complete data," said Bugti. He even warned that law enforcement agencies will start an operation to remove people after the expiry of the deadline.[2]
Approval of the Illegal Foreigners Repatriation Plan comes ahead of the November 1 deadline the Pakistani government set for all "illegal/unregistered foreigners" and those "overstaying their visa validity periods" to return to their countries of origin or face deportation for breaching Pakistan's immigration laws.[3]
Unregistered Afghan Refugees in Peril
Over the course of several tumultuous decades marked by the Soviet invasion, subsequent civil wars, and the United States-led occupation, a wave of destitute Afghans sought refuge in Pakistan. Since the resurgence of the Taliban in 2021, an estimated 600,000 Afghans have crossed the border, among whom a significant contingent comprises women and girls escaping targeted persecution and the systematic erosion of their fundamental rights within Afghanistan.
These unregistered Afghan refugees find themselves in a precarious predicament. They remain unable to secure legal status within Pakistan and are confronted with the grim prospects of returning to an Afghanistan marked by perilous instability. This unfolding situation constitutes an unrecognized dimension of the ongoing Afghan refugee crisis, one that has yet to receive official acknowledgment.
Compounding this crisis is the distressing reality that the Taliban's reign has ushered in a regime targeting a spectrum of individuals and groups. Their victims include human rights activists, ethnic and religious minorities, Afghan military personnel, former government officials, and champions of women's rights. Furthermore, the Taliban have been relentless in promulgating a series of increasingly draconian edicts curtailing the participation of women in public life.[4]
The plight of these Afghan refugees in Pakistan underscores the urgency of addressing the broader humanitarian and human rights dimensions of the Afghan crisis. It serves as a stark reminder of the need for international engagement and support to ameliorate the suffering of those who have been forced to flee their homeland due to conflict and oppression.
In reality, Pakistan's recent measures are distinctly tailored to address the complex predicament faced by approximately 1.73 million Afghans who have sought refuge within its borders yet remain in a state of limbo without the formal recognition of refugee status. Notably, it is imperative to recognize Pakistan's pivotal role in the genesis and ascent of the Afghan Taliban during the tumultuous decade of the 1990s.
Geopolitical Dynamics and Afghan Refugees
Throughout the protracted twenty-year U.S. intervention in Afghanistan, the Pakistani establishment provided both sanctuary and strategic support to the Afghan Taliban. This symbiotic relationship inadvertently gave rise to the Tehreek-e-Taliban Pakistan (TTP), an entity born as a byproduct of these affiliations. The leaders of the TTP, residing within Pakistan's tribal regions, underwent training and forged profound connections with their Afghan Taliban counterparts.[5]
Hence, this historical confluence of events underscores the intricate dynamics between Pakistan and the Afghan Taliban and the unintended consequences that manifested as the TTP. It is a narrative of complex geopolitical entanglements and their enduring impact on the region.
Tragically, an overwhelming majority of Afghan refugees in Pakistan, constituting nearly two-thirds, live beyond the confines of formal refugee camps, seamlessly integrated into the intricate fabric of Pakistani society. Within this diverse population, there exists a dire need for a range of essential provisions, including shelter, sustainable livelihoods, access to healthcare, and other indispensable forms of support.
Documentation Status and Return Statistics
Among this diverse group of Afghan refugees in Pakistan, one encounters various documentation statuses. Some possess the coveted Proof of Registration (PoR) cards, signifying a degree of official recognition, while others hold Afghan Citizen Cards (ACC). A segment remains undocumented, residing in irregular status, and there are those who carry ordinary visas, spanning purposes such as education, employment, medical treatment, or marital unions.
At present, the Pakistani government has categorized recent Afghan refugee arrivals into three discernible groups:
Temporary migrants, whose habitation extends to border towns, camp settlements, or those living with extended families;
Transit refugees, individuals who crossed into Pakistan with intentions to eventually settle in other countries;
Resident Card Holders, a group enjoying a more secure legal status within the country;
Returnees from Pakistan predominantly traverse the border into Afghanistan via two principal points of entry: the Spin Boldak border, located in Southern Kandahar province, and the Torkham border, situated in Eastern Nangarhar province.
Data sourced from the International Organization for Migration (IOM) underscores the scale of this movement. Since the dawn of 2023, an impressive tally of 84,000 Afghan returnees have crossed these border checkpoints, excluding those who were involuntarily repatriated. Notably, the month of September in the same year witnessed a significant surge, with 14,807 undocumented Afghans returning from Pakistan through the Torkham and Spin Boldak border crossings. This figure nearly doubled the return rate observed in the preceding month of August, when 7,578 returns were recorded.[6]
Unfortunately, according to official sources, plans have been put in motion to establish special deportation centers in all four provinces of Pakistan: Sindh, Punjab, Balochistan, and Khyber Pakhtunkhwa. Afghan individuals detained in Punjab and Sindh will be transferred to centers located in the Rawalpindi and Karachi districts, respectively. Meanwhile, Khyber Pakhtunkhwa will be home to two deportation centers in Chamkani and Nowshera, and Balochistan will accommodate three such facilities, with one in the provincial capital of Quetta, and the others in the districts of Qilla Abdullah and Pishin. These two provinces collectively share Pakistan's extensive 2,600-kilometer (1,600-mile) "border" with Afghanistan and host the majority of refugee families.[7]
International Concerns and Diplomatic Efforts
The recent distressing developments and the looming threat of deportation have drawn criticism from international organizations and governments. According to the latest United Nations data, approximately 1 million Afghan refugees are officially registered in Pakistan, and an additional 880,000 have been granted legal status to stay.
During early October, in a statement Amnesty International stated, "They are living incredibly precarious lives where they are either having to undergo arduous processes for registering as refugees in Pakistan; or are stuck in lengthy processes waiting to obtain relocation to another country. A forced return to Afghanistan could put them at grave risk."[8]
Moreover, UN's refugee and migration agencies: the UNHCR, and the International Organization for Migration on October 7, together appealed to Islamabad on Saturday to continue protecting those who sought safety in the country and could be "at imminent risk if forced to return". The agencies thus warned, "The forced repatriation of Afghan nationals has the potential to result in severe human rights violations, including the separation of families and deportation of minors".[9]
The government of United Kingdom, is trying to aid the Afghan refugees, at the verge of forceful expulsion. As reported on October 27, the first plane bringing Afghan refugees from Pakistan to the UK has landed. According to official sources, the flight left Pakistan with 132 people on board. The Civil Aviation Authority said the UK government had chartered a total of 12 flights to bring Afghans to the UK between now and late December. All the refugees are part of either the Afghan citizens relocation scheme or Afghan Relocations and Assistance Policy.[10]
However, the United States has engaged in high-level diplomatic discussions in Pakistan to address concerns related to Afghan refugees on the brink of mass deportation. A spokesperson from the U.S. Department of State said that Washington is urging Pakistan to adhere to the principle of non-refoulement, grant entry and extend humanitarian aid to Afghan refugees. "We consistently raise these issues with Pakistan at the highest levels and will continue to do so," the spokesperson mentioned.[11]
Pressures on Afghan Refugees and International Accountability
The opportunistic state of Pakistan is constantly pressurizing Afghan refugees to go back to a country where the conditions are anything but favorable. And predictably, if upon going back to Afghanistan, the freedom and life of the refugees are at jeopardy, one could claim that Pakistan, is in the path of disrespecting and breaking international refugee rights.
In conclusion, the lamentable condition of Afghan refugees in Pakistan serves as a stark indictment of Pakistan's capricious and often harsh treatment of these vulnerable individuals. Pakistan's shifting policies and threats of expulsion have left these refugees in a state of perpetual uncertainty, despite Pakistan's historical role in the rise of the Afghan Taliban. The international community's response, while expressing concern, has yet to hold Pakistan fully accountable for its actions.
As the world grapples with this humanitarian crisis, it is imperative to demand that Pakistan upholds its international obligations and respects the rights and dignity of these refugees. The tragic plight of Afghan refugees in Pakistan is a call to action for the global community to confront Pakistan's role in exacerbating the suffering of those who have already endured so much, and to insist on justice, compassion, and adherence to international norms. Urgent international intervention is necessary to hold Pakistan accountable and to provide a lifeline to these refugees in their hour of need.
Akhtar Nasiri is a researcher specializing in refugee studies. 
Note: The contents of the article are of sole responsibility of the author. Afghan Diaspora Network will not be responsible for any inaccurate or incorrect statement in the articles.
---
[1] https://www.aljazeera.com/opinions/2023/10/24/pakistan-must-not-collectively-punish-afghan-refugees
[2] https://www.reuters.com/world/asia-pacific/pakistan-finalises-plan-extradite-illegal-immigrants-nov-1-deadline-nears-2023-10-26/
[3] https://www.voanews.com/a/pakistan-moves-to-create-deportation-centers-as-afghan-migrant-deadline-nears/7324572.html
[4] https://www.refugeesinternational.org/reports-briefs/they-left-us-without-any-support-afghans-in-pakistan-waiting-for-solutions/
[5] https://www.aljazeera.com/opinions/2023/10/24/pakistan-must-not-collectively-punish-afghan-refugees
[6] https://reliefweb.int/report/pakistan/adsp-briefing-note-deported-what-afghans-pakistan-october-2023
[7] https://www.voanews.com/a/pakistan-moves-to-create-deportation-centers-as-afghan-migrant-deadline-nears/7324572.html
[8] https://www.aljazeera.com/news/2023/10/4/pakistans-plan-to-evict-thousands-of-afghans-unacceptable-says-taliban
[9] https://news.un.org/en/story/2023/10/1142022
[10] https://www.bbc.com/news/uk-67235667
[11] https://www.voanews.com/a/us-advocates-for-afghan-refugees-amid-pakistan-s-threatened-expulsion/7315002.html