Afghan Diaspora Activism Against Taliban Suppression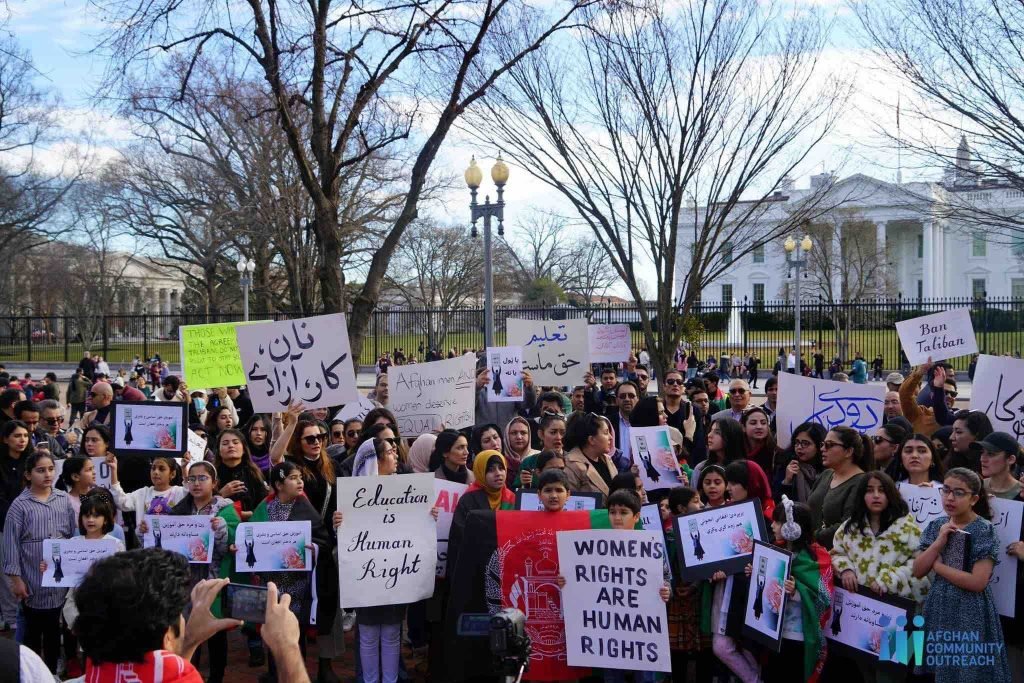 The year 2023 started with the voice of Afghan diaspora demanding justice and human rights for women echoed in the streets of Washington, D.C.
By Nazila Jamshidi
On December 20, 2022, female students cried in suffering behind the closed university doors from Kabul to Herat, Jalalabad, and many other cities. The videos of women shouting in pain and speaking out against the Taliban's retaliations overheated Afghan diasporas' irritation of the Taliban regime worldwide. Afghans orchestrated protests on the streets and online to join women inside Afghanistan to speak out their defiance and sorrow while calling for a more robust response from their host states. The Taliban's minister of higher education indicated the reason for not observing the universities' environment align with Islamic rules, dress codes, and other Islamic values. But Afghans worldwide call it brutal and misogynistic, which is nurtured by the fundamentalist ideology.
On January 1, 2023, New Year's Day, which for the world is a time of planning, new wishes, optimism, and promises, the Afghan diaspora in Washington D.C. gathered in front of the White House with their placards, messages to their leaders, and words of condemnation. Unlike many other protests, this time, protestors did not include merely human rights activists and members of civil society, but Afghan people, who were hollering a shared pain and demanding justice for women.
Farid Majidi, a software engineer from Herat and living in Virginia, who was photographing the entire demonstration, said, "this is the most difficult time for Afghans from all ethnic groups, and I want to stand with my people through capturing the moments of pain and struggle." Farid believes that nonviolent resistance by women will ultimately realize their human rights, and those outside can empower that resistance just by showing up and raising their voices. He wants to capture the feeling and emotions of this opposition and document the vibe and atmosphere of the demonstration for future generations.
Another protestor, Zahra Wakilzada, a student at Georgetown University from Afghanistan, who has participated and co-organized several protests in D.C., was chanting "women's rights are human rights" and "silence is violence" throughout the demonstration. Zahra says, "we have a duty to continue to make women's voices heard as they resist their banishment from society against gender apartheid."
While Afghans have not seen any positive results out of the global movement for women's rights in Afghanistan in the last year and a half, they persist in standing up for the social values of equality and justice and amplifying the voices of Afghan girls and women. In the face of the Taliban's systematic and deliberate violations, protestors strengthened the voice of male university students who walked out of their final exam as a protest and made it clear that whether all take exams or none take exams, "All or None".
Fariha Nowrozi, another female protestor, holding a poster saying "Let Afghan Girls Learn" and shivering as the air was brutally cold, said, "I am cold, but the feeling is not identical, not even 1%, to the feeling of women protestors in Herat against whom the Taliban discharged large water cannons in a cold day when they demanded their rights for education."
Peaceful protests have always allowed ordinary and oppressed people to have their voices heard. From hundreds of miles away, the Afghan diaspora stands in solidarity with their fellow Afghans inside the country. They take to the street to draw attention, condemn, and mobilize others to speak up with a collective voice. The city of Washington, D.C., has encountered various forms of protests ever since the Taliban established their so-called Islamic Emirate and imposed damaging and discriminatory rules on women.
From marches, speeches, and chanting to performance art, poetry, and holding signs, Afghans have been engaged in activism and organizing with the goal of enacting change in the circumstances of Afghanistan's citizens, particularly women. As Farhad Darya, a cherished and well-known Afghan singer, indicated in his speech at the demonstration in D.C. held on January 14, 2023, "the common pain is the most potent force that connects Afghans from every group to constructively present their demands as one voice." The more oppressive the Taliban become to the women of Afghanistan, the more Afghans outside the country will stage protests to condemn and prevent them from achieving the recognition they very much desire.
Nazila Jamshidi – a gender equality and human rights specialist involved in Afghanistan's development and democracy processes for the past decade – has worked for the UN, USAID, the International Federation of Red Cross.
Note: The contents of the article are of sole responsibility of the author. Afghan Diaspora Network will not be responsible for any inaccurate or incorrect statement in the articles.