Emerging Stronger Since Ceasefire, Tehreek-e-Taliban Pakistan Spreads its Tentacles Throughout Pakistan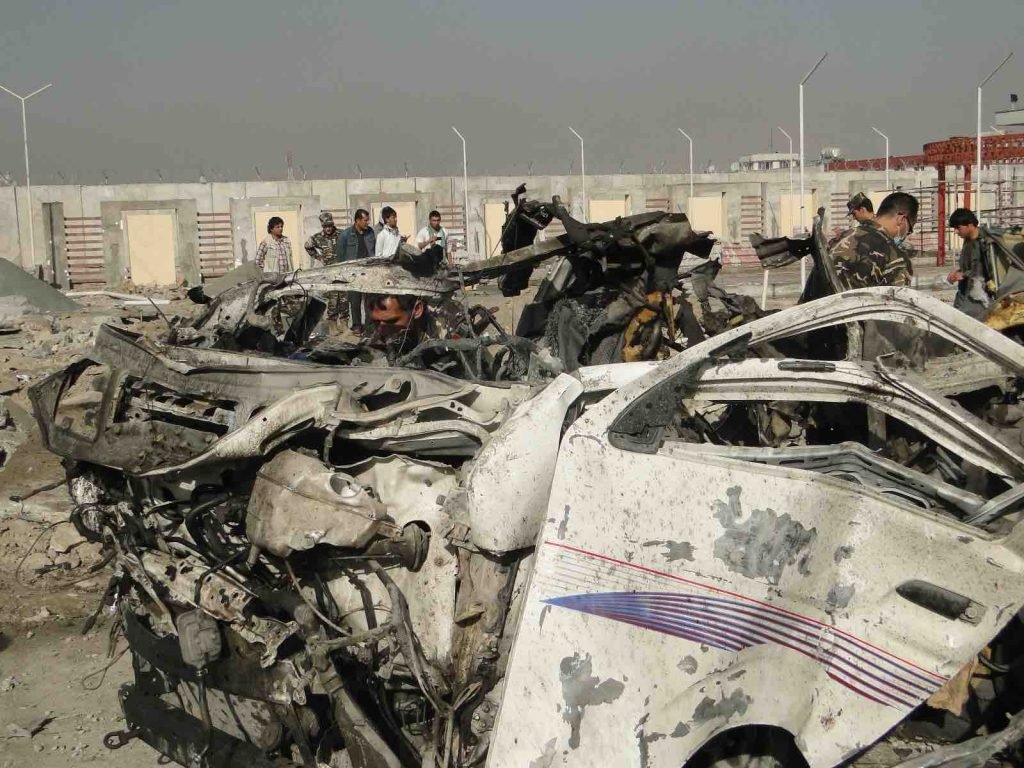 By Shinwari
Striking at the heart of Karachi, the largest city and the commercial metropolis of Pakistan, Tehreek-e-Taliban Pakistan (TTP) militants stormed the Karachi Police Chief's office on February 17, resulting in a hours-long combat between militants and various law enforcement agencies, encompassing Pakistan Army's Special Service Group (SSG), Sindh Rangers and Sindh Police. The attack left four people martyred and 18 injured. All three terrorists belonging to the TTP were killed. A police officer injured during the attack succumbed to his injuries during treatment. A statement from the Sindh police spokesperson said that Abdul Latif, 50, had embraced martyrdom. Apparently, Sharea Faisal is Karachi's main thoroughfare with a number of strategic installations, including the Pakistan Airforce's Faisal Base. Such an audacious attack shows the level of impunity exercised by this particular terror organisation within Pakistan.
Worryingly, TTP warned of more attacks against law enforcement officers, a day after this attack. In a statement, TTP said "the policemen should stay away from our war with the slave army, otherwise the attacks on the safe havens of the top police officers will continue." It also mentioned, "This attack is a message to all the enemies of Islam and all the security agencies of Pakistan that the TTP will continue their fight for the implementation of Sharia in the country."
This is not the first time that Karachi suffered at the hands of TTP militants. In 2011, TTP had claimed the attack on PNS Mehran, one of the most densely populated naval bases located in Karachi. 10 security personnel died in the attack and two US manufactured surveillance planes were also destroyed. Three years later, on the night of June 8, 2014, TTP attacked the Jinnah International Airport of Karachi in which 24 people died. There is no doubt that resurrection of Taliban in Afghanistan in August, 2021 is proving fatal for Pakistan, as the militant affiliate of Afghan Taliban, the TTP is once again gaining leverage not only in the tribal zones of Pakistan, bordering Afghanistan, but also in far of places. In addition, the TTP leadership, along with its foot soldiers, find safe haven in Afghanistan without any constraints.
According to the 13th report of the Analytical Support and Sanctions Monitoring Team submitted pursuant to resolution 2610 (2021) concerning ISIL (Da'esh), Al-Qaida and associated individuals and entities, released in July 2022: TTP constitutes the largest component of foreign terrorist fighters in Afghanistan (between 3,000 and 4,000). One Member State reported that current TTP leader Mufti Noor Wali Mehsud has united the group, which is now more cohesive, presenting a greater threat in the region.
TTP militants since Taliban takeover of Afghanistan, have been on a rampage across Pakistan, in attacking various police personnel, police stations, check posts etc. Few of such incidents post August, 2021 are:
▪ On February 25, 2022, two Policemen were killed and another was injured after TTP militants attacked them at a restaurant in the Eastern Bypass area of Quetta, the provincial capital of Balochistan.
▪ On June 30, 2022, an official of the Counter Terrorism Department (CTD) of police was killed while another one injured when TTP terrorists attacked a checkpoint in Azam Warsak area of South Waziristan District in Khyber Pakhtunkhwa.
▪ On December 3, 2022, three policemen were killed when Pakistan TTP terrorists attacked a police check post in Akora Khattak area of Nowshera District in Khyber Pakhtunkhwa.
▪ On February 5, 2023, one security force personnel, was killed and eight others injured in a TTP orchestrated suicide blast on Gulistan Road area of Quetta.
Moreover, after playing 'hide and seek' for more than a year, TTP finally ended the ceasefire with Pakistani establishment on November 28, 2022. Crucially, even before the cease-fire ended, hundreds of TTP militants had returned to their former strongholds in Khyber Pakhtunkhwa, which in itself is a bad omen. Apart from direct acts of violence, the TTP is also very much involved in extorting money. TTP is using phone numbers with the +93 code, which denotes an Afghan SIM card, to extort money from powerful and rich individuals in Pakistan. Inputs indicate that since July, 2022 TTP has extorted more than Pakistan Rupees 1.2 million and used it as a source to fund their growth.
One of the prime reasons for resurgence of Taliban with all its viciousness within Pakistan is the state sponsored dubious policy of "Good Taliban versus Bad Taliban." In its domestic matter, the Pakistani establishment has always been at loggerheads with the TTP or the Bad Taliban. It is interesting to note that the Taliban in both sides of the Durand Line, share a common ideology and allegiances, which the TTP renewed following the Taliban takeover of Afghanistan. Pakistan through this strategy seeks a pliable, Islamist power across its western border in Afghanistan- the Good Taliban. However, the TTP, with its definite aim of ousting the Pakistani state and establishing Sharia law, is considered a terrorist menace.
Pakistan once again is at the crossroads of religious fundamentalism and radicalism spawning with full strength. With dubious state policies and complete failure in maintaining peace and order in the tribal areas bordering Afghanistan, Pakistan has undone the series of military missions like Zarb-e-Azb in which several lives were sacrificed all in the name of ending terrorism.
Pakistan on February 2, asked the interim Afghanistan Government to take 'concrete actions' against terrorist outfits including the Tehreek-e-Taliban Pakistan (TTP) operating out of the neighbouring country in the wake of deadly terrorist attack in Peshawar killing over 102 mostly police officials, reports The Express Tribune. "Pakistan expects sincere cooperation from the interim Afghan government to address the challenge of terrorism and hopes that Kabul would live up to the commitments made to the international community in this regard," Foreign Office spokesperson Mumtaz Zahra Baloch told during a weekly news briefing in Islamabad.
"We do not believe in accusations or finger-pointing; however, we would reiterate our expectation that no country should allow its territory to be used for perpetrating terrorism against Pakistan," she said without explicitly mentioning Afghanistan. "It is time the commitments made to the world and Pakistan are fulfilled with sincerity and in good faith with concrete actions," the spokesperson emphasized, referring to the commitment made by the Afghan Taliban not to allow the Afghan soil to be used again by terrorist groups.
* Author chooses a single pseudonym. Shinwari is a freelance journalist based in Peshawar, Pakistan.
Note: The contents of the article are of sole responsibility of the author. Afghan Diaspora Network will not be responsible for any inaccurate or incorrect statement in the articles.